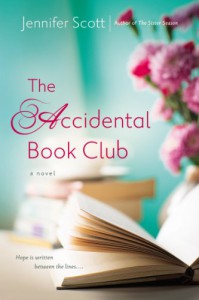 ISBN-13: 9780451418821
Publisher: Penguin Group (USA)
Publication date: 5/6/2014
Pages: 368
My Rating: 4 Stars
Having read THE SISTER SEASON, last year and enjoyed it; was excited to read THE ACCIDENTAL BOOK CLUB by Jennifer Scott. The stunning front cover draws you into a group of women and their book club (what is not to like about a book club).

As with most clubs, in addition to discussing books there is also an ample amount of food, wine, and of course, a wide variety of personalities, discussions, new friendships, support, and a means to escape into the lives of characters of books.

An engaging novel of a group of diverse women of different generations, learning to cope and help one another find their way. A story of second chances and how some people can change the course of your life.

Jean, a widow going through a tough time, mourning her husband and now she has a group of six women who meet the second Tues of every month for dinner, wine, and lots of laughs, and books.
Of course it was a book club; and they were there for the books, not the food; however Jean realizes the ladies (herself included) look for more than a rekindling love of reading--they need a welcome distraction from their lonely or boring lives, not to mention the food! With more talk about the brown sugar icing on Mitzi's bananas Foster bars than about plot development or symbolism.

It was never just quiche or capers or balsamic drizzle. It could be one of Dorothy's sons in jail, a divorce, an ex's new girlfriend, Mitzi's political rants, Loretta's off-color jokes, poor Janet's nervous and skittish personality while she desperately tried to join the conversation, or May's dating woes. Jean is just glad once a month for two hours she does not have to think about Wayne and how much she misses him.

Loretta wants to escape into erotica, with a lack of intimacy in her own marriage. Dorothy always worries about her troubled sons, causing her stress. Janet is rather shy and overweight, and being abused by her boss. May is younger and quite the entertainer with her dating stories. Mitzi always has drama and comments on every book. Loretta enjoys trashy romances.

As Jean's family begins to unravel when Bailey (her troubled teen granddaughter), comes to live with her – she definitely turns to her book club for comfort and support. (Bailey's mom is an alcoholic and an absentee father). Jean is still grieving for her husband, and then finds she now has to deal with her rebellious granddaughter.

Full of fun characters – each with their own life's challenges. While each of them experience growth during the book, they have new friends to help support them along the way!