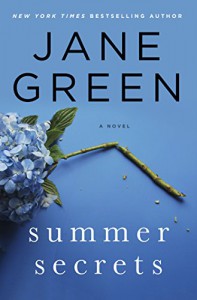 By Jane Green
ISBN: 9781250047342
Publisher: St. Martin's Press
Publication Date: 6/23/2015
Format: Hardcover
My Rating: 5 Stars
A special thank you to St. Martin's Press and NetGalley for an ARC in exchange for an honest review.

O U T S T A N D I N G !

Master storyteller Jane Green delivers yet another powerful and gripping novel with SUMMER SECRETS (two winners in one year-impressive). Both, off the charts. A riveting, insightful, emotional and thought-provoking page-turner with some highly-charged topics of addiction.

Cat has been comfortable with a bottle of Vodka to help her with her trials and ongoing problems of life. At an early age, she found alcohol numbed her, and became her friend of choice. She never lived up in her dad's eyes, and even though her mom loved her, she was controlled by her dad, spending most of her life depressed. Cat did not feel as though she ever fit in. Even though she was a successful writer, her continuous wine drinking lunches ultimately affected her job.

At the opening of the book London 2014, with flash backs of London 1998, and separate visits to Nantucket by daughter and mother, over the years. Cat is divorced and now has joint custody of her thirteen- year old daughter, Annie. Cat has been off and on the sauce so many times with rehab and then one disaster, driving her back to the bottle.

Audrey, her mom was a Bohemian style free spirit until she became submissive under her husband Richard's control. Now, since his death, her mom has been granted her life back, along with her personality and warm spirit. She and Cat now have a close relationship. Her mom has always worried about her daughter's drinking and comes clean with Cat. Her hidden secret. Cat's dad is not her real dad. Her mom had a brief affair with her sister Judith's neighbor in Nantucket years ago. He was an artist, a wonderful man; however, he was/is an alcoholic. At the time she was afraid of her husband, and went on with her life. Her husband never knew he was not the father; however, Cat down deep knew there was no connection, or love there.

Readers hear tidbits and pieces of Cat's life as well as her moms. From Nantucket to London. Cat has been on and off the bottle so many times. She even lost the love her life, Jason (a recovering alcoholic), her friends, her job, and at one point her daughter.

As we flash back in time, we see the excitement as Cat learns about her real father. Her mom has been in touch and he is also delighted with the news. He is now divorced and has two other daughters by different women. Cat is beyond excited about meeting her new family and the sisters she never had and plans a trip to Nantucket to visit with her Aunt Judith for a reunion.

The older sister, Ellie is not so warm; however, Julia is more like Cat and her relationship with her father is everything she has always wanted. At the time Cat is in a new relationship with Jason, promising him she will go to meetings while she is away. However, with her dad being an alcoholic and Julia and her boyfriend's non-stop drinking, she is pulled back into the life of social drinking. She does not know how to stop and does something really stupid. She blacked out and does not even recall what she did until she wakes up to discover her life spiraling downward once again. She has betrayed her new family. She continues to lose people important in her life; however, she reverts back to alcohol until she reaches the bottom losing (her daughter and her husband).

Fast forward Cat has now been clean for years and is a freelance writer trying to help other women in addictive situations. Her daughter, Annie is now thirteen and she still goes to AA meetings daily and her sponsor wants her to return to Nantucket to make amends to all the people she has hurt, as part of the the program. Jason has of course moved on with a steady girlfriend, even though Cat would love to get him back; however, he has given her so many chances in the past.

The much dreaded meeting she has to return to Nantucket to face her sisters. She is lacking funds, so her gay best friend Sam (loved Sam)!!!! attains them a travel writing assignment (love these), and lands a house for two weeks. Her daughter is excited about meeting her cousins and aunts. When Sam redecorates the house, sounds like something I would do with accessorizing the cottage, and have done the same. While on Nantucket, Cat reminisces about her time with her family years ago and how she screwed up. She is not proud of all the people she has hurt with her destructive behavior over the years; however, she is determined to make amends and follow her sponsor's advice in order to move to.

Complications and tragedy arises, once again, testing Cat's determination to stay sober and this time she may be strong enough to tackle life's problems in a new way light. Sam also finds a love interest and the summer offers a positive ending for all. You have to love summer in Nantucket with glorious summer nights and endless sunset evenings (especially with a great read).

A wonderful exploration into the lives of different women, mothers, teens of various ages, handling their insecurities in many ways. Audrey, Cat, Ellie, Julia, and Annie. An ideal choice for book clubs and group discussions, with a variety of different perspectives.

Jane Green is the epitome of timeless elegance. As she gets older her writing gets better and better. I am not a huge fan of fluff, light beach reads which you often find with romance, women's fiction, and chick-lit, as why sometimes I stay clear. I prefer deeper, thought-provoking, suspense, emotional literary reads with flawed characters, as they embark on a journey to learn from hard life's lessons. Life is not all roses, I like a dose of realism and adventure, as rocky as it may be. We all learn from our mistakes.

Hence, I thoroughly enjoyed Jane's latest two books,Saving Grace and Summer Secrets. She takes contemporary issues of modern working women and tackles with sensitivity. Fans of Jodi Picoult, Amy Hatvany, and Sarah Pekkanen (my favs) will enjoy Jane's latest gripping story of reinvention and overcoming addictions of alcoholism. Well done.

SUMMER SECRETS is a "JDCMustRead" and should be at the top of your reading list for summer....Green, once again delivers a winner!